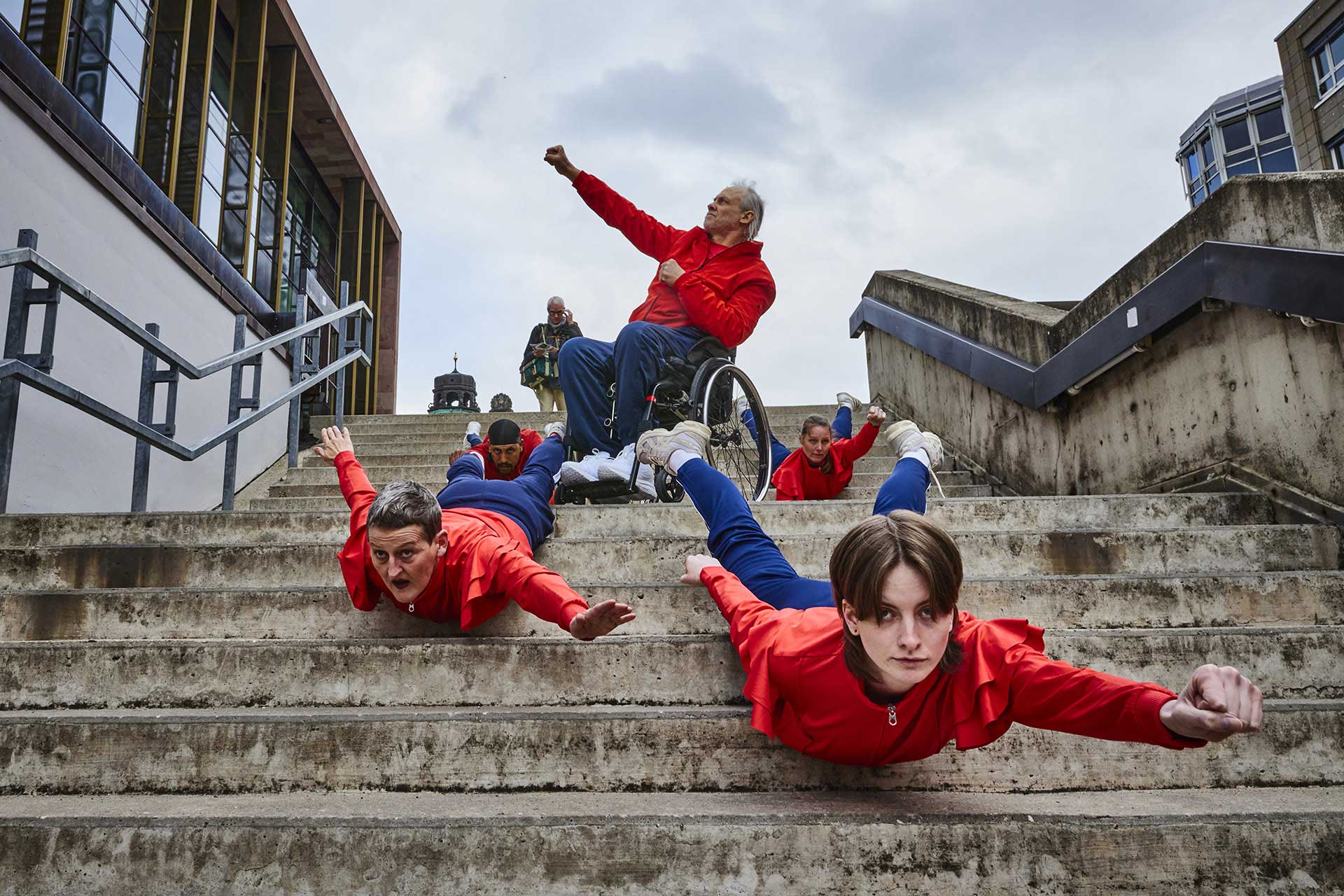 Stairways to Heaven?
An inclusive dance production for the urban space. Premiere, Wed, 14. June 2023, 81:00, Stairs at Köpfleinsberg, Kaiserstraße, 90403 Nürnberg
Wed, 14. June 2023, 18.00 – 18.30 Uhr
Stairs at Köpfleinsberg, Kaiserstraße, 90403 Nürnberg
Thu, 15. June 2023, 19.00 – 19.30 Uhr
Stairs at Schauspielhaus, Sandstraße, 90443 Nürnberg
Fry, 16. June 2023, 18.00 – 18.30 Uhr (mit Audiodeskription + haptischer Einführung)
Stairs at Tafelhof Palais, Bahnhofstraße 4, 90402 Nürnberg
Tue, 20. June 2023, 18.00 – 18.30 Uhr
Stairs at Köpfleinsberg, Kaiserstraße, 90403 Nürnberg)
Thu, 22. June, 2023, 19.00 - 20.00Uhr (extended version)
Dokumentationszentrum (Start: Treppe zum Saal Nürnberger Symphoniker), Bayernstr 100, 90471 Nürnberg
STAIRWAYS: access – symbol - obstacle
Curtis & Co - dance affairs and EveryBody move into the public space to present their third inclusive dance production Stairways to Heaven?. The staircases of Nuremberg provide the stage for an exploration of the architecture and form of stairs, their symbolism and function. At the same time, the production sends out a plea for a barrier-free city. The production contributes to the Host Town Program 2023 of the City of Nuremberg, within the framework of the Special Olympic World Games. The performances will take place between 13 - 22 June at various staircase locations in Nuremberg's city centre. The final performance will be an extended version on 22 June at the Documentation Centre.
The seven performers, with and without disabilities, explore and embody the materiality and functionality of stairways, integrating the momentary situation into an urban choreography. Ironically, metaphorically or on a more reflective note, the symbolism and representational nature of stairs in general, and the individual historical connotations of the particular locations are integrated into the action. At the same time, the performers are aware of how many people regard stairs as a hindrance. What barriers have to be overcome here? Dressed as super athletes or super heroes, the Stairways to Heaven? team is on a mission- every step they take.
EveryBody aims to make dance and theatre accessible to everyone. All performances take place in accessible, public places. Admission is free. Accompanying formats (audio description, haptic introduction) will be offered for individual performances. Details can be found on EveryBody's channels.
Choreography Susanna Curtis
Ensemble Susanna Curtis, Tina Essl, Lina Hartmann, Roland Kraus, Emmanuelle Rizzo, Hugh Stanier, Tameru Zegeye
Costumes Johanna Deffner, Rena Vög
Production management Lina Hartmann
Dramaturgy, engagement Nora Hensel
PR Ute Sander-Keller
Assistance Lea Müller
EveryBody wird unterstützt von